In the time of Klimt, at the Pinacothèque
Published on Thursday, 4 June 2015 in Museums & Expos - Hôtel des Métallos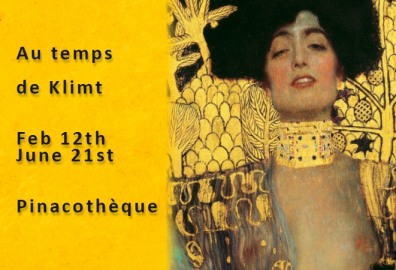 The exhibition shows over 180 works taken from the collections of the Belvedere museum in Vienna, as well as from private collections. Gustav Klimt's part in the emerging of that movement is a major one. The artist's talent and brio, from his precocious start to his excessive decorative effects, where gildings and the emerging expressionism are dominant, are the foundations of a new period, which flowered in Vienna at the turn of the century. That artistic movement is, in fact, at the origin of the birth, a few years later, of one of the major currents in modern art, Expressionism.
The core of the exhibition is based on a selection of major works by Klimt, from his first years of studying until the major works of his golden age, like Judith I (1901) or the Beethoven Frieze, a monumental work, reconstituted to scale and shown for the very first time in France.
A group of rare documents regarding the artist's life, his family and his brothers Ernst and Georg, who were also artists, with whom Gustav often collaborated, accompanies the visitor throughout the exhibition.
A very particular attention is furthermore paid to the first years of the Secession and to the influence it had on the artist's formation through the major Viennese intellectuals, such as Carl Schuch, Tina Blau, Théodor Hörmann, Josef Engelhart, Max Kurzweil, who, just like him, spent time in Paris at that period. the artistic personalities who influenced his art are summoned up thanks to a choice of paintings coming from the Belvedere, presented alongside works describing the history of the movement's patrons. Thus, the exhibition shows important masterpieces from the Secession and from the Austrian vanguard, such as the first works by Egon Schiele and Oskar Kokoschka.
A final section of the exhibition is devoted to Viennese art forms, to the ancient and refined trade of craftsmanship, which engendered pieces of furniture, and to precious jewels, to splendid ceramics, as well as complex reconstructions of works and of rich historical documents, witnesses to the genesis and to the evolution of great artists and architects of that period, such as Adolf Loos, Josef Hoffmann and the Viennese Studio.
You can book from the web site below or buy tickets on site.
There are late openings until 20:30 on Wednesdays and Fridays.
Due to Government Public Security measures, all bags are checked.
Wheelchairs are available in the checkroom free of charge. All galleries and facilities are wheelchair accessible.
« Back to posts