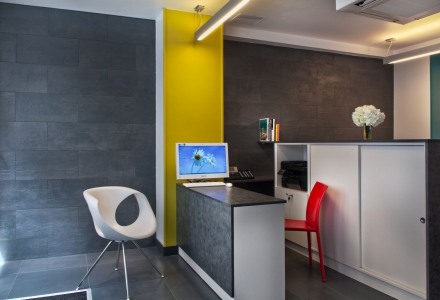 …at the crossroads of the areas of Bastille, Marais and Oberkampf
The Hôtel des Métallos Paris, enjoying a strategic position, is located in one of the most trendy areas of Paris. Made of neutral shades enbrightened with touches of colour, its modern and uncluttered design creates a cosy atmosphere. You will feel like in a bubble in the middle of the Parisian agitation. The team of the Hôtel des Métallos Paris will do its best to make your stay a pleasant experience.
Services & amenities
The Hôtel des Métallos Paris has all possible equipments to make your stay easier :
Elevator and luggage storage
Reception opened 24/7 with possibility to order taxis or book restaurants and shows. Computer and fax machine at your disposal
Lounge with snack and soft drink machines
Wi-Fi available in the whole building
Feel free to ask us about anything else.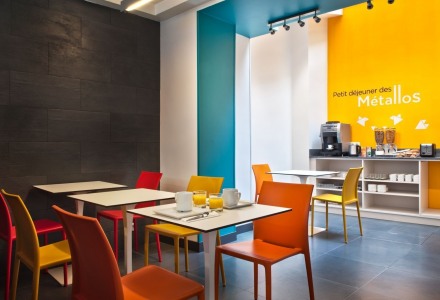 HôteL des Métallos Paris : a gourmet breakfast
In a cosy atmosphere with bright shades of colour, you can start your day smoothly. We can offer you two options for breakfast :
Orange Tonic
A buffet of high quality products, selected with care. The pastries come from a local bakery delivering its products every morning.
Open from 7 a.m. to 10 a.m.
Rate: 10 euros per person per day
Orange Pressée
If you are an early riser or in a hurry, you can chose a take-away option with one hot drink and three pastries.
Available from 7 a.m. to 8 a. m.
Rate: 3.5 euros per person per day