Keys to a passion, at Fondation Louis Vuitton
Published on Friday, 29 May 2015 in Museums & Expos - Hôtel des Métallos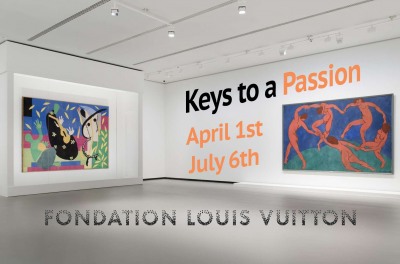 Following on from previous announcements, Keys to a passion highlights the Foundation's collaborative relationships with major French and international institutions. Lenders to this exhibition include the most prestigious museums in the world: The State Hermitage museum, Saint Petersburg; Tate Modern, London; MoMA, New York; Guggenheim, New York; MNAM-Centre Pompidou, Paris…
The first part of the exhibition, Subjective Expressionism, brings out the questions that we have about life, death, anguish and solitude, showing the works of Francis Bacon, Alberto Giacometti, Otto Dix, Kazimir Malevich, Edvard Munch and Helene Schjerfbeck.
In the second part, the curators have featured the Contemplative range. It starts with meditations on nature – Claude Monet, Piet Mondrian, Ferdinand Hodler, Akseli Gallen-Kallela and Emil Nolde – and continues with the radicalism of abstraction, showing works of Kazimir Malevich, Piet Mondrian, Constantin Brancusi and Mark Rothko. Quite another direction leads to a vision of more embodied hedonism, with works by Pierre Bonnard and Pablo Picasso.
With the third part, Popist, the exhibits resolutely engaged with the vitality, energy and progress of modern life, showcased through its most contemporary expressions – the city, sport, advertising and the media – in works by Robert Delaunay, Fernand Léger and Francis Picabia.
The last part concentrates on the importance of the existing ties between art and music, displaying an major selection of works by Henri Matisse, Wassily Kandinsky, František Kupka and Gino Severini.
The entry fee is €14 full price, €10 for students, people under 26 and teachers, and €5 for people under 18 and job seekers.
Friday late-night opening (11pm) and early opening on Saturdays and Sundays (10am).
« Back to posts